Last week, we finally got our hands on the much publicised 2017 Honda CBR1000RR Fireblade for a day of proper road testing – did it live up to the hype? Well, yes and no.
Firstly, this review is not from the standpoint of using this bike on the track. In reality, most of these bikes won't see a track for many years due to the eye-watering cost, so we felt it was important to look at the bike from the perspective that most people will use it for… but may not admit!
Having put 10,000 miles on a previous model Fireblade across Europe, I was extremely excited to see how this one compared for those who can't resist a superbike for regular on the road riding.
Technology
Racers and track riders have long complained that the Fireblade has fallen behind its competitors in recent years due to its lack of electronics and gizmos like electronic suspension, however, the latter is only available on the SP model. So, what have they done, and how much difference does it make for the road user?
The first thing you notice is its new look, with very smart and neat LED headlights that seem like a much-needed upgrade – I was forever getting condensation in my previous Blade's headlamps and it appears to be a common issue. The bike looks simply stunning, as you can see for yourself. We love that the can has returned to one, big meaty pipe, even if it has been driven by emissions regulations.
Our Honda representative showed us around the new colour screen, which gave the bike a real up-to-date feel. He took great pleasure in showing us (repeatedly) the difference between the choice of background colours you can choose – not exactly a selling point but a nice gimmick for those who love to play around with all things digital.
Selectable engine braking, torque control, riding modes and a power selector was next, which was very impressive to see and even better in practice. The lack of ability to regulate the delivery of power on the previous model was always an issue for me, especially in the wet.
What you may not be able to see from photographs is that the rev counter has additional LEDs above the screen, which flash when you begin to rev too high – a limit you can change.
A slight disappointment for me was (still) no fuel gauge. It just seems archaic to justify no fuel reading with 'well, it's a superbike'. I'm sure that no matter what you use the bike for, knowing, even roughly knowing, how many miles you've got left is very valuable. It becomes a pain when you're riding a bike like this with others whose bikes aren't so thirsty – you're going to run out first, but you don't know when. So, you end up having to remember to reset a mileage counter. A small gripe, but one that matters to the road user.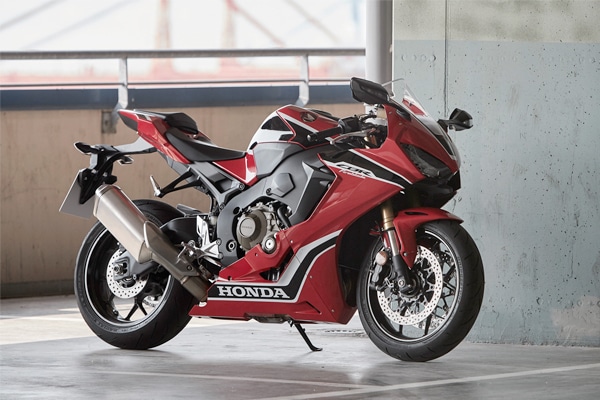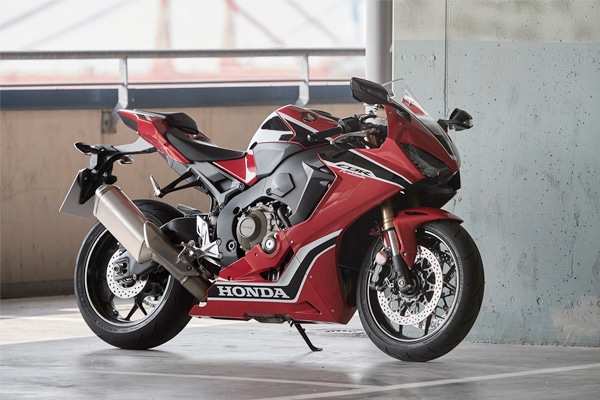 The shape
Immediately as I sat on the bike, I could feel the 'aggressive and functional minimalism' that Honda talks about in its brochure. It was less comfortable and less chunky than the previous Blade, but it certainly made it easy to throw into corners, as I expand on later. I'm about 5ft 11", and for the first time, I felt like I was a little too tall for the bike. At times, my head felt like it was almost over the fairing, but I got used to it.
The range of colours isn't great at the moment, and that's not to say they aren't good looking bikes, but Honda tends to tease out the Repsol and HRC models slightly later down the line to boost sales. I was told by the dealership that Honda are trying to return to the days when a Repsol Blade was a rare find, which was music to my ears. I have always questioned slapping Marquez stickers and Offical Repsol paint jobs on 50cc mopeds – it's hardly adding value to those proud owners of the 1000cc supersports bikes.
Performance
With Honda boasting a 14% improved power to weight ratio compared to the previous model, I was initially expecting a noticeable improvement, although I did question whether it really could get any faster on the roads. In all honesty, I couldn't tell the difference in terms of raw power, but it really made a difference in how the power and weight work together with the new, slim chassis.
Honda's Supersport range tagline is 'Total Control' and I think it's perfect. The bike was incredibly easy to stuff into corners, correct any errors and plant the accelerator on the exit, all helped with the faith from Honda's efficient traction control system and ABS, which remained dormant and didn't intrude.
The power, like all Blades, is more than enough for the road. I often slowed to allow for the traffic ahead to get through upcoming windy sections so I could have some real fun. Its pace is blistering.
Unfortunately, the Euro 4 compliant exhaust hasn't helped the Blade's sound at slower speeds. It's still got that Honda roar when you open her up, but subsequently I felt like I was getting fewer opportunities to get the sound out of it while riding around the town and nearby countryside. At high speeds, the bike sounded slightly better than the previous model. My colleague pulled up beside me at a set of traffic lights saying that it sounded terrifying from behind when I gave it some beans, which was great to hear.
As you would expect, the brakes were incredible and worked in harmony with the full Showa suspension set up. This is another improvement on the previous bike, helped by the 15kg weight reduction.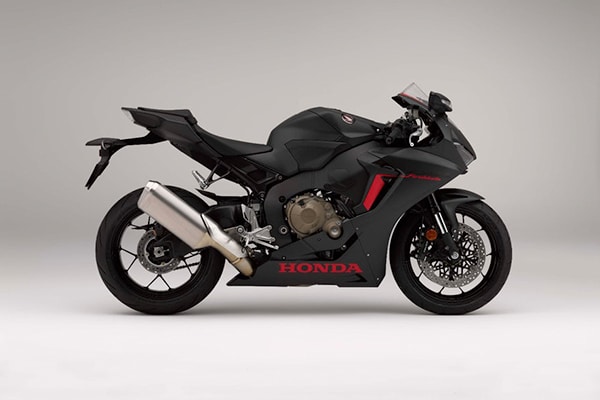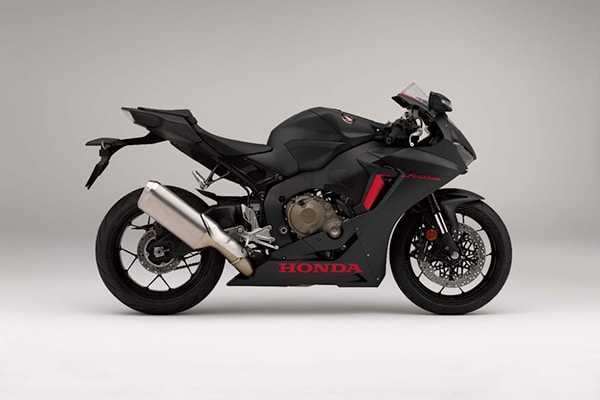 Positives
Innovative digital screen
Easier to handle, more in control
Lighter
Incredible brakes
Much needed rider modes and tuning support
Negatives
Loss of sound in lower revs (might need to buy an aftermarket exhaust!)
Less comfortable than previous model
Heavy price tag
Still no fuel gauge
In summary
Overall, I wouldn't say that this bike is an imminent must for all Fireblade lovers. The new bike has some great and worthwhile upgrades for the year-round user, although I would argue that it's taken yet another step towards a pure racing bike in some respects (shape and comfort) but has benefited in other ways (engine modes and traction control).
If you're the rider who puts 1-3000 miles per year on the bike over the summer months, riding in fair weather and you're not too bothered about having the latest model, then I would recommend spending either two-thirds of the price on a brand new 2016 model while you can, or spend even less on a 2012-2015 model with a few thousand miles on it.
With all the variables and changes, it's worth going to your dealer and taking one out, or at least sitting on both the new shape and the old before making a decision.
If you've got the money to burn, love the thought of proudly owning the new Blade, you won't be disappointed.
I rode with a smile on my face all day.