2016 has been an exciting year for everyone here at Tru-Tension, testing and developing new products while watching the success of Chain Monkey with bikers and race teams worldwide, enabling us to produce a range of innovative and exciting new products!
Belt Monkey

By popular demand, our new Belt Monkey finally enables belt driven motorcycles to benefit from our unique, patented tensioning technology. After 2 years of research, testing and refinement, Belt Monkey has been developed to provide precise belt tension first time, every time.
Tour Monkey – Annual Motorcycle Tour Planner
Our new motorcycle tour planner has been created for both riders who regularly tour and those who are new to packing their bike up and heading off on the open road.
Developed with experienced two-wheeled explorers, our tour planner is designed to accommodate all kinds of tours up to 3 weeks in duration by offering customisable packing lists and flexible day and destination pages.
The planner includes top tips for gearing up and riding abroad safely. It's also a great tool for keeping memories organised, making it easy to refer back to previous routes.
BananaSlip Chain Lubricant & Wax

Our new BananaSlip range brings the latest in lubrication technology in two variations, depending on your riding style: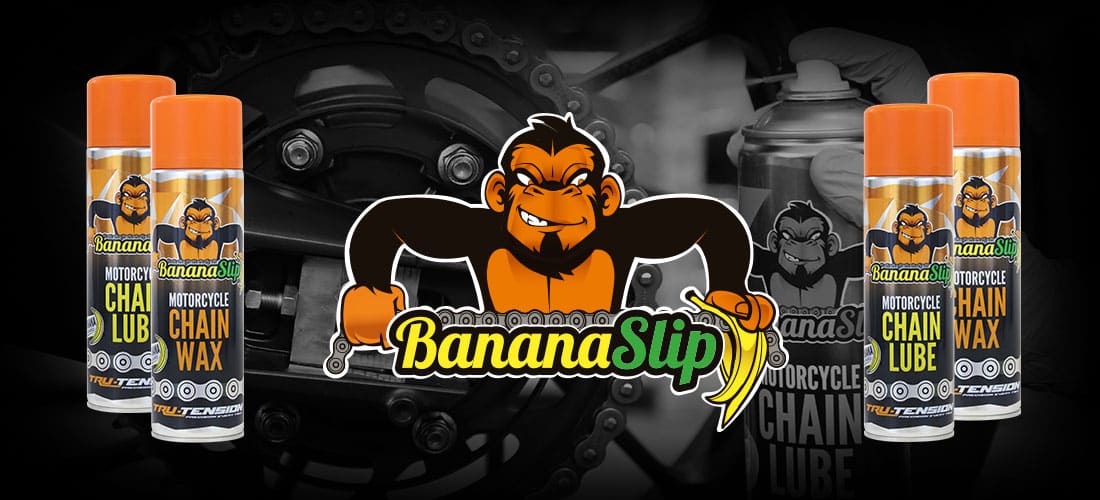 BananaSlip Chain Lube
For street, track, race and high performance riding
Dissipates heat under intense acceleration and speed
Compatible with standard O, X and X-Ring chains
Banana Fragranced
Reduces frictional losses
Highly versatile and rust preventative
Regular use keeps your chain in top condition
BananaSlip Chain Wax
For commuting, long distance riding and off-road/motocross
Ultra long lasting lubrication (up to twice as long as traditional oils)
Perfect for all motorcycle and motorsport applications
Anti-Fling formulation
Compatible with standard O, X and X-Ring chains
Banana Fragranced
Highly versatile and rust preventative
PrimeShine

Our new PrimeShine range takes cleaning to the next level, with products carefully developed and diligently tested in order to give incredible results with minimal application. It is available both as a chain cleaner and bodywork foam cleaner.
PrimeShine Motorcycle Chain Cleaner
Our new and unique formula easily lifts built up dirt and grime from your chain, to leave your chain looking new while protecting against contaminants and corrosion.
Perfectly removes all grease, oil and dirt build up
Added chain protection
Highly effective and easy to use
Suitable for standard O,X and Z-Ring chains
Reduces friction
Brilliant for all road, off road and race chains
PrimeShine Motorcycle Bodywork Foam Cleaner
No more water, no more mess with our new PrimeShine Motorcycle Bodywork Foam Cleaner! This all-in-one instant action foam cleaner soaks into dirt, lifting it away and leaving a polished finish in its place.
One spray instant foam cleaner and polish
Quick, easy and highly effective all in one cleaner
No water needed, so no water marks!
Perfect for bodywork and painted/ plastic parts
Indoor cleaning
Wheel Monkey
Wheel Monkey makes cleaning and inspecting your wheels and tyres safe and simple, preventing the annoyance of moving the bike multiple times with oily and soapy hands to see all surfaces.
By placing your wheel on the rollers, Wheel Monkey provides stability and smooth movement of your motorcycle wheel, allowing you to access the entire rim surface from one point for effective and efficient cleaning and inspection.
Muck Monkey
To accompany our Chain Cleaner, we have produces a sturdy brush with a mixture of short and long bristles in order to keep your chain looking its best. Muck Monkey's four brushed faces enable you to clean every surface of your chain, even in hard to reach places.